Documentation/OHITool
From Semantic CorA
OHI Tool
The OHITool extension is an extension used in a Virtual Research Environmen based on Semantic MediaWiki and allows reaserchers to carry out Qualitative Analysis of social interaction using Objective Hermeneutical methodology. The extension particularly has been tailored to be use for classroom interaction analysis.
It was developed within the research project SMW-CorA and funded by the DFG.
Download
Download the zip file and extract it to the folder of your MediaWiki installation.
Installation
Template:TNT This extension requires MediaWiki, Result Formats and Tabs to be installed first.
Usage
This is a brief introduction on how to use the OHITool. A more detailed guide will appear on this page in the near future.
About Objective Hermeneutic method
For an extensive information about Objective Hermeneutic method, please consult []. In the following picture we present the ontology of classroom interaction:
Also, the researcher will follow the Objective Hermeneutic protocol, as in the picture: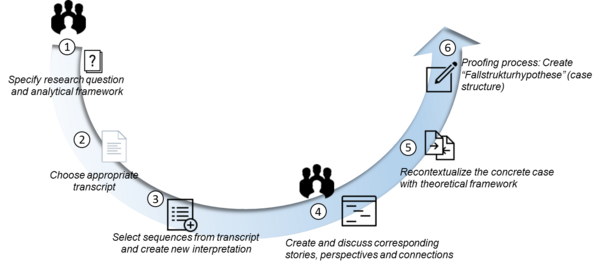 You may also consult the presentation of the talk given at the OpenSym'17 conference in Galway, Ireland:
Based VRE for Addressing Multi-Layered Data Analysis – The Use Case of Classroom Interaction Interpretation
Known issues
This tool is usually required in German space, due the fact that it was a genuine German idea. This is the reason that properties, templates
and interface is in German. For the next version, we plan to have an English version also.